---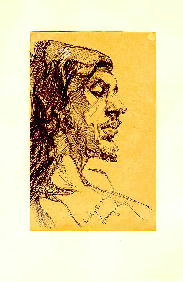 Astronomy is the most romantic science among all others. Ancient Greeks understood it quite well, and they considered astronomy not only as science, but also as art, with its Muse - Urania.
Here we represent "another part of our life" - art works of our scientists. We begin with the sketches and drawings, made by prof. V.M.Lipunov. As science gives a good opportunity to travel (which is especially important here, in Russia), we present "travel sketches", made in different parts of the world. In the second part of our exhibition drawings of V.M.Lipunov are presented. Most of them were made 15-20 years ago. For many people it will be a meeting with a well known places, persons and situations, for another - it will be a small window in their computer to the very strange world.
Scientific arts of V.M.Lipunov.
We are pleased to acknowledge Laboratory of New Fotometric Methods for help in scanning this images.
---


---
1986

1989

1990

1991

1992

1994

1996

1997
---


---
1973-1974

1975

1978

1980

1992
---


---
Binary Star
Binary System of X-ray Pulsar
Disk Accretion onto Magnetized Neutron Star
Kelvin-Helmholts Instability of Accretion Disk
Interchange Instability in the Accretion Disk around Neutron Stars
Mahnetosphere of Neutron Stars ( Sphericaly accretion)
Raley-Taylor Instability on the Magnetosphere of Neutron Stars
Spinar
Quantum tunnell effect
Black Hole Way
Black Hole Web
Exchange
Evolution Tree
Discovery of X-ray stars
How to draw ellipse
Algol type light curve
Numerical results
Kick after shpericaly-symmetrical supernovae explosion
Reflection effect
Negative capacity of Stars
Algol Paradox
Determination of orbital motion by Doppler effect
"Relations" between radio and X-ray pulsars
Scenario Machine
Twisted accretion disk
X-ray pulsar in stellar wind
X-ray stages of binary evolution and Non X-ray stages of binary evolution
Living apart together

---




Back to HOME

---


This page was designed by Sergey Nazin.
Send questions and comments to leng@sai.msu.su