Canadian Paper Money - Questions & Answers
[Canadian Paper Money]
This page will attempt to answer questions pertaining to Canadian Paper Money.  If you have any questions you would like answered, please E-Mail and I will respond to the best of my ability.  Please note that all images at this site comply with Canadian currency law (Criminal Code, Section 457).  You are the 878th person to visit this page.
---
Table of Contents
---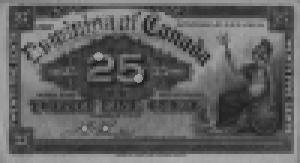 Shinplasters refer to the fractional currency that was first introduced to Canada in 1870.  25-cent notes were printed as a temporary solution to the shortage of Canadian coin.  The issue became so popular with the public that the it remained in circulation for many years.  Shinplaster issues were also done for the years 1900 and 1923.

"Many attribute the expression 'shinplaster' to the use of fractional U.S. notes by soldiers of the Revolutionary War period to prevent their boots from chafing.  The term was first used in Canada with reference to the merchants' scrip which appeared in abundance in 1837-38.  Subsequently, it came to be applied to 25-cent Dominion of Canada notes from the time of their first appearance in 1870."  ...taken from the The Charlton Standard Catalogue of Canadian Government Paper Money, 8th edition, 1995, p. 80.

"Nickname for 19th century U.S. and Canadian fractional notes, for their small size.  Term was also applied in a derogatory manner to the Confederate notes of the U.S., due to their dubious value."  ...taken from The Standard Catalog of World Paper Money - General Issues, 6th edition, 1990, p. 32.
---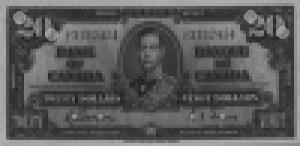 Following the creation Canada's central bank, the Bank of Canada introduced its first paper money issue.  In 1935, separate unilingual English and French were produced.  In 1937, a bilingual issue was created as it became clear that it was too expensive to produce separate English and French versions.
---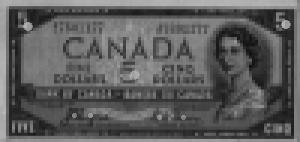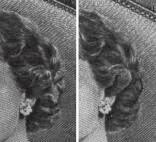 Early printings of the 1954 Bank of Canada issue show the image of a devil's head in the Queen's portrait.  Highlights in the Queen's hair, behind her ear, show a devil-like image.  Controversy forced the redesign of the Queen's portrait.  The devilish image was eventually removed in a modified issue by darkening the highlights.  The devil's face close-up is shown above followed by the modified portrait.
---



Banknotes that show the '*' symbol before the serial number are known as asterisk notes, more commonly known as replacement notes.  Starting with the 1954 Bank of Canada issue, defective notes produced during the printing process were replaced by these 'replacement notes' which carried the asterisk before the serial number.  Starting in 1981, with the introduction of triple-letter prefix notes, the use of the asterisk was displaced in favor of the use of the letter 'X' in place of the 3rd letter in the serial number.  With respect to the 1979 Black Serial Number issue (which contained no letters in the serial numbers) replacement notes were distinguished through the use of the number '1' in place of the second digit.
---
E-Mail: mjp@idirect.com